REDEEMING CANS, REDEEMING HOPE.
OUR MISSION:
Providing HOPE for all people through meaningful work, unique volunteer opportunities, authentic relationships, and faith-based personal growth so that every person has the opportunity to fulfill God's calling on their life.
Feel good about recycling your cans, glass, and plastic
and not just throwing them away. Allow us to redeem them with the money benefiting a great cause. The Hope Redemption Center is a local non-profit that encourages and mentors

those active in recovery to meet their maximum potential.

All proceeds from the Hope Redemption Center go toward the Sunnybrook Hope Center. It's a win-win for our community and the environment.
WAYS TO DONATE:
HOPE REDEMPTION CENTER, WHISPERING CREEK GOLF CLUB TRAILER, SUNNYBROOK CHURCH TRAILER, OR MORNINGSIDE LUTHERAN CHURCH TRAILER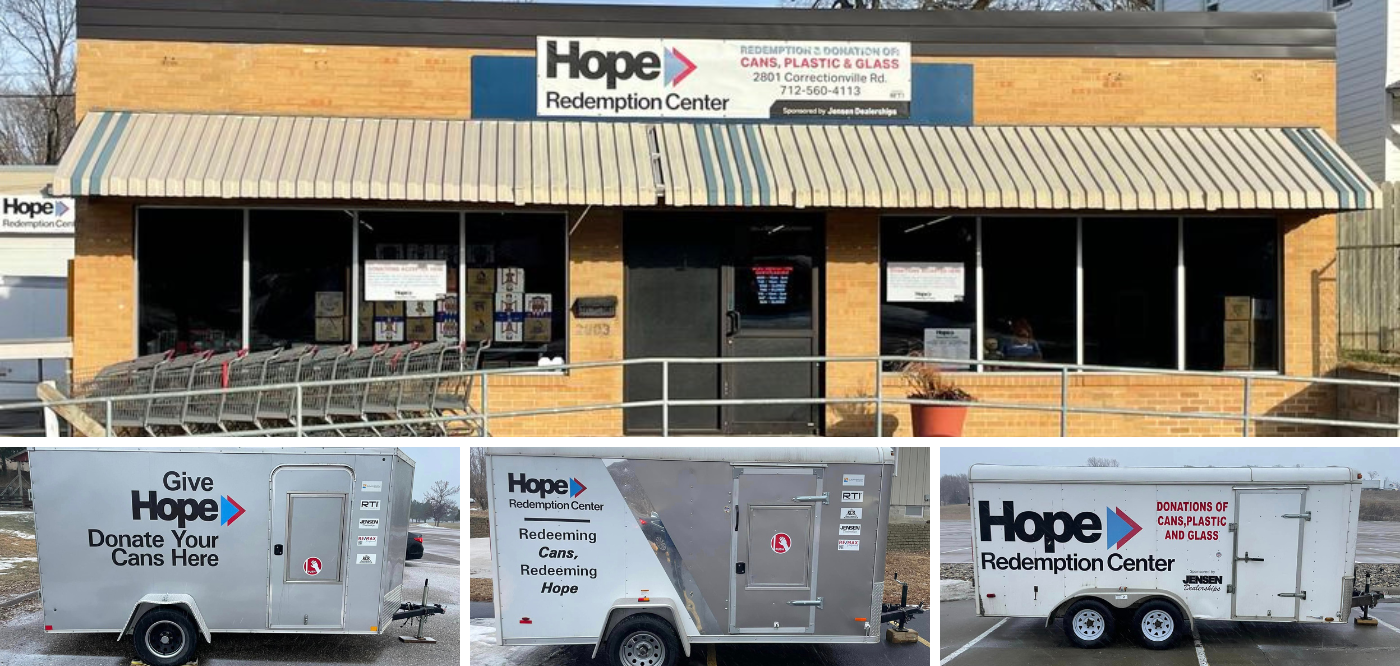 MORE ABOUT THE HOPE REDEMPTION CENTER:
HRC redeems approx. 5,000,000 cans per year!
71% of redeemable containers are recycled annually in IA through redemption centers, keeping all this out of landfills! (compared to 29% in states without a Bottle Bill)
Provided stable, Christ-centered employment for over 20 employees, many who are in recovery
2,234 volunteer hours donated in 2022
Approx. 400,000 cans donated in 2022
At the end of 2022 we have donated $30,000 to Hope Enterprises
CONTACT US:
For more information on the Hope Redemption Center, contact Brad Rawson at or 712.560.4113.
HOURS:
Monday, Tuesday, & Friday 10:00 - 3:00
Saturday 9:00 - 2:00